If you live in the Houston, Texas area you know that we have weather that allows us to enjoy the outdoors almost year-round.  Landscaping is a great way to ensure that you always have a beautiful place to enjoy the outdoors in every season.  Regardless of the yard space, landscaping can be added to make the space more usable and enjoyable.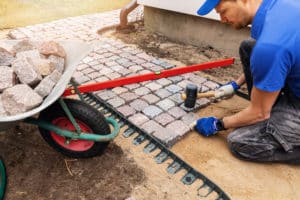 Extended Living Space
Many Texas residents have learned that backyard landscaping can extend their living space.  When you have an outdoor space that is beautiful and usable, you may find that you spend more time outdoors as a family, gathering with friends and even eating meals.  This effectively adds square footage to your home, making it bigger and more enjoyable than ever.
Quality Family Time
If you are always looking for ways to spend more quality time with your family, why not take them out in the backyard and just enjoy some simple time together? The right backyard landscaping can keep any family entertained with patio seating, fire pits, playgrounds, golf and so much more.  Time spent with the family outdoors is always enjoyable.
Increase your Property Value
Another great reason to consider new landscape design options is to improve your overall property value.  Not only does fresh, new landscaping look great, but it can also increase your property value. If you are considering selling your home any time soon, landscape design can add to the value of your property as well as to the curb appeal of the home.  While landscaping is an investment, it is one that you can see a return on if you plan to sell your home.
Archer Services Can Make Your Backyard Landscaping Ideas a Reality
If you have ideas for your backyard landscaping Archer Services would love to make them a reality.  If you need some input, we can help with landscape design ideas that will suit your needs, the style of your home, and your budget. Being Texas natives and a part of the Greater Houston area, we enjoy working with clients on every project, no matter the size.  Contact us or give us a call today at 281-801-4862 to learn more about what we can do for you and your outdoor space!