If you're considering an upgrade to your current landscaping and you aren't up for the task yourself, hiring a landscape architect can help to ensure that you get the results you have dreamt of.  If this will be your first time hiring a landscaping professional, you may not be sure what to expect.  While every landscape professional works a bit differently, some common procedures will guide you and your expectations of the process.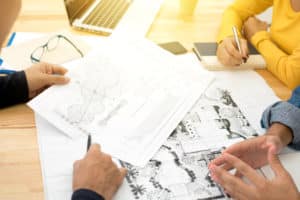 Site Evaluation
The first step is to meet with your landscape architect and walk the property.  This will allow you and your landscape professional to discuss what you would like to accomplish with your outdoor space.  It will allow the landscaper to see the natural resources available to the property and assess the space.  Style of the home, sun and shade exposure, your use of the space, and budget will all be topics of discussion and consideration.
Design
After you have met with your landscape architect and have discussed what you would like to see, your landscaper will create a garden and planting design. He or she may provide this as a drawing, a digital 3-D design, or a simple proposal. At Archer Services we enjoy providing a 3-D plan so our client can see what the finished product will look like. When you receive the design proposal, you will know for certain that your architect is on the same wavelength as you in terms of design. If you don't love what you see, this is your time to speak up!
Paperwork
Because someone is doing work for you, you can expect some paperwork to get the job started. A local landscape architect that has been in business for some time will be able to streamline this process, getting your signature on the contract and also providing proof of their licensing and insurance. Like all work that you have done around your home, it is important to get a signed contract before work begins.
Project Management
If your landscape architect has subcontractors working on the project, usually they will be the ones managing the individuals or teams who will be doing the work. This is something you should ask your landscape professional about ahead of time to ensure the project is being managed.
Final Inspection
After all of the work is done, your landscape architect should perform a final inspection with you. This can be a walk-through, or they may provide you with a punch list to show you that all of the work has been done. Either way, a final inspection should be done so you know that the work was completed to your satisfaction. When the final inspection is done, all that is left to do is enjoy your new outdoor space. Even subtle landscaping jobs can make sitting outdoors so much more enjoyable.
Archer Services Would Love to Be Your Landscape Architect
At Archer Services, we enjoy working with our customers, not only building their dream outdoor space but building a relationship as well. No outdoor space is too big or too small, and neither are your dreams for a beautifully landscaped lawn.  So we can make arrangements to meet and walk through your property to discuss how to bring your landscape dreams into reality.