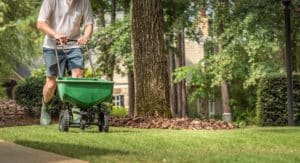 The scorching sun, nearly unbearable temperatures, and active pests and rodents make landscaping in summer a chaotic and tiresome affair. Finding reliable landscaping services is one way to make it easier. Here are even more tricks to ease summer landscaping projects.
Top Summer Landscaping Tips and Tricks
Whether you reside in a metropolitan area or you're tucked away in the suburbs, here are tips and tricks that'll make summer landscaping easier and enhance curb appeal:
Change How You Mow
To keep your lawn looking neat without damaging your lawn's health, don't cut the grass shorter than 3inches. This provides enough insulation to withstand the scorching summer heat and prevent water loss.
As a result, your lawn becomes healthier, fuller, and ready for the summer BBQs. If you usually mow your grass shorter than 3 inches to reduce the times you have to mow, consider hiring landscaping architect services pros to do the job for you.
Water Your Lawn
Summer is hot, so your landscape will need a little more watering than average. Irrigate it three times a week at dawn and use plenty of water.
Watering your lawn in the morning means less stress from the sun, while using a lot of water allows deep soaking for better root growth and a healthier lawn. Don't water your lawn at night, as this will encourage fungus growth in the damp soil and roots that haven't had enough time to evaporate excess water yet. If your grass is already brown, use drip irrigation so your lawn absorbs more water in preparation for greener grass in the fall.
Ensure Proper Fertilization
Use high-quality fertilizers rich in nutrients like nitrogen and potassium. You can even get pre-mixed fertilizers, so your landscape receives the nutrients it needs to fight heat, drought, and disease damage.
Do Something about the Pests and Rodents
You may mow, properly hydrate and feed your lawn using high-quality fertilizers, but your work will quickly go down the drain if pests and rodents like chinch bugs and rats find their way to your compound. So, find ways to get rid of such pests or seek help from a local landscaping company.
Bring in the Wildlife
Although pests and rodents degrade your landscape, hummingbirds, butterflies, bees, and other pollinators add beauty and excitement and facilitate pollination for healthier, beautiful lawns. Invite them to your landscape and garden by adding colorful plants and building birdhouses and feeders.
Handle Summer Landscaping like a Pro with Expert Assistance
Proper landscaping boosts curb appeal, prepares your yard for the fun summer BBQs ahead, and turns it into a perfect relaxation area after a long day of work.
Want to get started on your summer landscaping? Reach out to our team of landscaping services experts at Archer Services for more tips and inquiries.