2020 has been an unprecedented year that has many people looking for ways to make their homes even more enjoyable than ever before.  Most of us have spent more time at home during 2020 perhaps than at any other time before.  Landscaping your outdoor space will extend your living space and make your time spent at home even more enjoyable.  Luckily, in Texas, there are landscaping elements that can be utilized year-round so even as we move into fall there are great additions you can make to be enjoyed throughout the fall and winter months.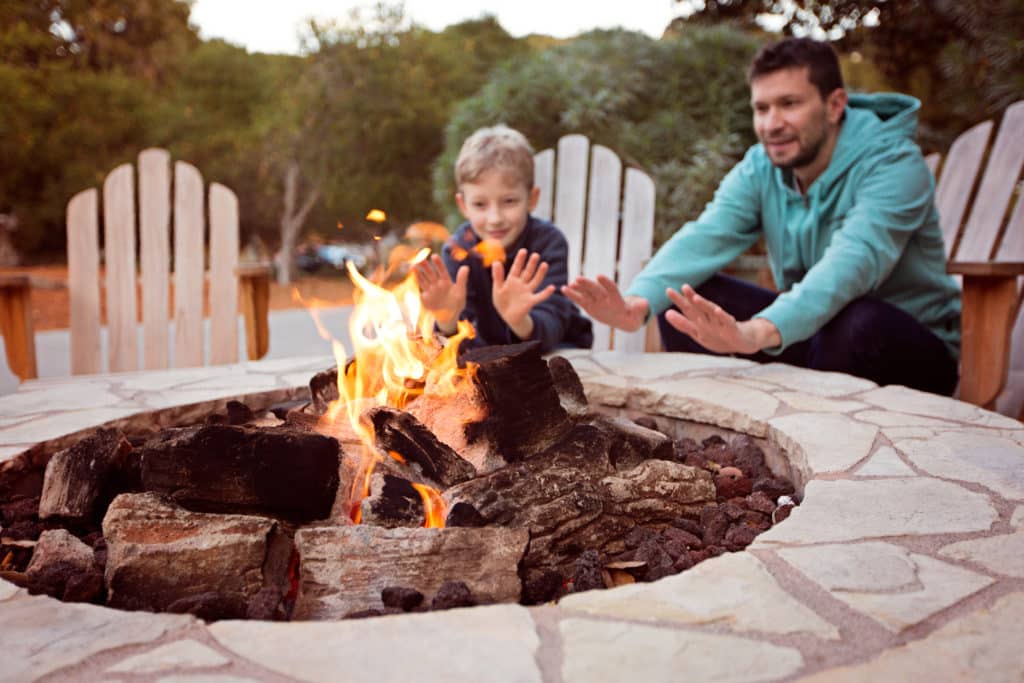 Firepits
Firepits are great additions to any outdoor space and existing landscaping. A firepit can be as simple or as ornate as you would like it to be.  Many Texas residents choose to incorporate other outdoor features such as a patio or outdoor kitchen into the area where they have a firepit.  Others like to create a unique hideaway portion of the yard where a firepit can be built for family and friends to enjoy.  Families enjoy fires year around, so this is an investment that will serve you well.
Patio with Seating
Patios take many forms from large and ornate to small and simple. A patio area can be enjoyed throughout the year if lighting and heating can be brought into the space.  Gathering with the family or with friends around a table for a meal is always enjoyable, even in the winter months.
Recreational Spaces
Want to have some fun at home?  Many families find that installing a playscape for the kids or a golf green for adults is a great way to add some elements of fun at home.  Other fun landscaping ideas that could be incorporated include corn hole, horseshoes, checkers, giant jenga, yard dominoes, and even zip lines.  In Texas, many of these elements can be enjoyed year-round.
Hot Tub
A hot tub is a great investment for your outdoor space since the winter months don't often allow for your typical swimming pool use.  There is nothing quite as enjoyable as getting into a warm hot tub when the air is cool. This can be a great way to spend family time or time as a couple. Landscaping the area around the hot tub can help to make it even more enjoyable by adding flowers, pots with plants, lighting, and even music.
Music
Music is a great addition to any space. Outdoor speakers will allow you to really set the tone of all of your outdoor festivities.  Whether you're eating dinner, around the fire, in the hot tub or playing a rousing game of corn hole, music is a great addition.
Plant Flowers to Add a Pop of Color to Landscaping
This is a great time of year for landscaping in Texas.  If you plant in the fall it allows for shrubs and the like to get acclimated, so they are even more beautiful come spring.  There are many varieties of flowers that can be planted and enjoyed now and enjoyed through the winter. Adding a little bit of color to your space with flowers is always welcome when many trees and grasses lose their leaves or go dormant.
Create Photo Ops with Landscape Elements
Another fun idea is to create decorated areas that are perfect for pictures.  The use of hay bales and Christmas décor can not only make your yard look beautiful, but you can also use the space to take pictures of your family that will be keepsakes in the years to come.
Archer Services Wants to Help You Create a Versatile Outdoor Space
Living in the Greater Houston area ourselves, we know that many residents enjoy spending time outdoors year-round.  We would love to work with you and your landscaping to create an outdoor space that will take you outside where you can enjoy fresh air, family, and friends at any time of year.  Contact us or call us today at 281-801-4862 so we can discuss your landscaping design ideas and needs!  We look forward to working with you!