Fall landscaping is more popular than many homeowners realize. The heat of the summer has come and gone. Homeowners are spending more time outside thinking about how they can make their backyard or front yard landscaping even more spectacular.  Dreams of beautiful landscapes have people looking at landscaping companies and trying to determine which is the best one for their needs.  So, what do you look for in a landscaper?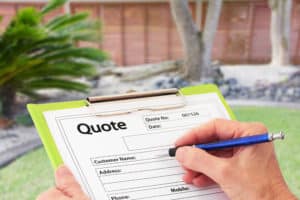 What to Look for in a Landscaping Company
Work with your local landscape architect. Every geographical area is different, which is why you may get the best results from a locally owned landscape architect. They know the soil quality, what plants tend to thrive, and the temperature ranges for each season.   While you may see more advertisements for large or national companies, often the smaller locally owned businesses will provide you with the expertise you need to get the landscape you have been envisioning.
Responsiveness.  When you are investing in landscaping you want a professional who is going to be responsive to you.  Whether you call or email, you should be made to feel as though your questions and concerns are a priority. Even if you are considering a small landscaping project, you should feel as though your project is every bit as important as the next.
Range of services that matches your needs.  When looking for a landscaping architect you also need to hone in on the options that provide the services you are looking for.  Not sure exactly what you want to do with your outdoor space? That's ok!  Look for landscaping architects that offer a wide variety of services and will likely be able to service all of your needs from simple to elaborate.
A great reputation.  Reputation matters.  When on the search for landscaping companies, ask friends, family members, neighbors, and coworkers for suggestions.  Chances are, the same names will continue to pop up again and again.  You can go a step further and look at the Google My Business pages of the landscapers and read their reviews.  If the landscapers are on Facebook or Yelp you may also find that they have reviews there, as well!  Feedback from others who have used the business in the past can always be insightful and help you make the right decision.
Meet in person.  It can be a great idea to have the landscaper come to your home and discuss what you want to do with your property. Ask them to bring a portfolio of their work with them and engage meaningfully. Ask them questions, inquire about ongoing specials, guarantees, and the like.  Chances are when you meet the right landscaper, you will know it.
Archer Services Wants to Be Your Landscaping Architect
As Houston landscaping architects, we know the importance of forming relationships with your clients.  Every project is important to us, regardless of size or scope.  We know the area well and we can help guide our clients toward choosing the right plant life if they are unsure. We offer a wide selection of services, enabling us to deliver beautiful front yard or backyard landscaping visions of homeowners from all over the Greater Houston Area.  Contact us today for a free consultation! We would love to meet with you!