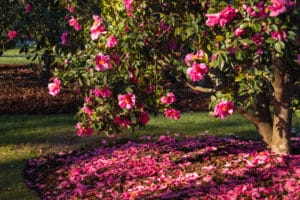 Colorful blooms and vibrant-colored plants turn any landscape into a natural eco-space, attracting birds, butterflies, and other wildlife and making outdoors a lovely space to kick back and relax. So how is a colorful garden achieved? For people just getting started, asking a landscaping company in Houston to use the plants discussed below will infuse any landscaping with eye-catching color.
Top Five Plants to Add Color to Your Landscaping
The five plants highlighted below are not just colorful but also easy to care for and are the perfect way to enhance the beauty of a lawn design:
Lavender
Lavender, known as the purple king, is one of the most beautiful and most fragrant flowers.  It sports a stunning purple hue guaranteed to stand out in your garden and is best grown in part or full sun and well-drained soil for the best color outcome. Lavender is not just colorful; it also has essential oils and a mosquito-repelling scent.
Barberry
Also known as the Japanese Barberry, Barberry is a deciduous, ever-green shrub with thorny stems. It grows into a dense shrub and is also drought-resistant, meaning low maintenance. It has various colors, but the bright orange Sunjoy Tangelo is the best and easiest to maintain. Although colorful, some varieties of barberries are quite invasive so ensure you consult your local landscaping company in Houston before you put it in your garden.
Camellia Sasanqua
Although there are over 200 Camellia species, the Camelia Sasanqua is among the loveliest, fragrant, and most colorful. It's a late bloomer and can start to bloom anywhere from late summer through winter. In full bloom, the Camellia Sasanqua forms large, semi or double flowers with rich pink and crimson hues, and dark green foliage, creating a stunning visual contrast to the milk-white snow blanket that forms in winter.
Abelia
Perfect as a border and an edging shrub, abelia is an ornamental shrub with tiny, delicate leaves that come in various colors ranging from a catchy gold to subtle but stunning burgundy. It has small, fragrant flowers that depend on the plant variety and can have multiple colors such as greenish-yellow, bronze, burgundy, or lilac pink.
All varieties tend to have small, white blooms and exceptionally long bloom periods, making abelia a reliable food source of pollinators. So, it'll not only add color to your garden but also attract beautiful hummingbirds and butterflies to your landscape. Consider consulting a professional from a landscaping company in Houston for tips on the best Abelia variety for your landscape.
Brandywine Viburnum Nudum
The Brandywine Viburnum Nudum doesn't just add color to your landscaping — it also leaves you with a bunch of colorful edible berries (they're highly acidic, though). It features beautiful white flowers that turn into clusters of breathtaking berries that change from green to vibrant pink and vivid blue hues.
Let a Professional Landscaping Company in Houston Transform Your Backyard
A colorful landscape creates a perfect backdrop for evening hangouts with loved ones. Need more suggestions on plants that add color to your landscape?
Our team is waiting to hear from you. Get in touch with us today for more backyard landscaping ideas in Texas.