Residents looking for backyard ideas in Texas need to look no further. Archer Services in Texas has the green touch that every lawn needs to stand out.
While the front yard is responsible for giving first impressions of the home, the backyard is more like a sanctuary. It's an extension of the home, used for entertaining, relaxing, getting work done, or spending time with family.
Imagine walking through a backyard in Texas engulfed by bouquets of luscious greenery, freshly mulched garden beds, and a perfectly positioned waterfall. The right landscape design can make the backyard one of the most important components of the home.
Backyard Ideas for Texas Landscaping Art
Archer Services will help bring Texas customers' creative backyard ideas to life with expert landscape design,  construction, and maintenance services.
Understanding the customers' needs is a critical step in the landscape design process. Lawn design starts with brainstorming. The customer's creative ideas are the foundation, with our expertise layered on top to create an aesthetically pleasing, fully functional backyard.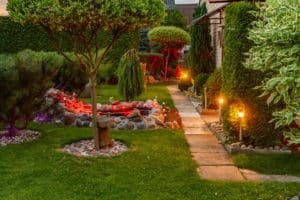 1. Night Lighting
The fun does not have to stop when the sun goes down. Illuminate the backyard with a new night lighting setup.
2. Turf Installation
Freshen up the look of the entire Texas property with backyard turf installation. All without having to pay hundreds of dollars to keep it beautifully green. While it looks lush, it also helps to relieve allergies and stop mud and puddles from forming.
3. Stonework
Entertain guests on a new outdoor patio or add a freshly constructed stone wall to the existing backyard scenery. You can also use them to create layers to your garden so you and all your guests can view beautiful flowers and greenery from anywhere.
4. Waterworks
A new backyard pond or waterfall will please visitors and wildlife alike. The trickling and splashing will help to create a scene of serenity after a day of hard work.
5. Drainage
All that rainwater will need somewhere safe to go so that the backyard does not flood. Proper drainage will help with that.
6. Flower Services
Choose from a range of beautiful flowers to plant in the backyard for a homier feel. In addition, flowers can repel insects and pests so you can have that relaxing backyard oasis you imagined.
7. Landscape Maintenance
Consistent care is essential for maintaining a healthy lawn. Every season brings challenges, and landscaping is never more important than when Mother Nature does her worst.
Archer Services can help with seasonal cleanup, mulching, fertilizing, trimming, and more.
Local Lawncare Done Right
Texas residents should not have to think twice when choosing their local landscaping company.
Neighbors and strangers alike will fawn over the lawn that is cared for by Archer Services. More importantly, it will be enjoyable walking through a backyard that takes advantage of these landscaping ideas.
Remember, the grass is always greenest where you water it.
Do you have questions for us? Maybe you're ready to spruce up your lawn? Either way, get in touch with us! We'd love to hear from you.