Spring is on the way, and it won't be long before yards across Texas are blooming beautifully.
However, before that time comes, there's still time to tackle your landscaping and lawn care checklist. That means starting early, having the right equipment, and knowing what your lawn needs to thrive.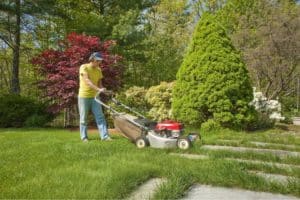 Prepare for Spring Lawn Care with These Tips
Even if you don't have a lot of landscaping experience, you can still tackle the Texas weather and help your lawn thrive throughout the spring and summer months and beyond. Here are five ways to get ready.
1. Check Your Mower
Mowers are a top lawn tool as evident by the mower industry's $4 billion in revenue. Make sure your mower's motor is working, the blades are sharp enough to cut grass without multiple trips over it, and the fluids are replaced before use.
2. Look for Weeds
Weeds are sure to be one of your biggest adversaries in your attempts to keep a beautiful lawn. It's always a smart move to keep an eye out for weeds – the sooner they're found, the easier it is to deal with them. If the problem becomes too extreme for hand weeding, try using weed killers to keep them under control.
3. Set Up Your Sprinklers
With the average lawn sometimes using 200 gallons per day to stay hydrated, it's important to think smart when watering. Most people rely on sprinklers, so make sure yours are connected to your irrigation well. If you're worried about wasting water, try investing in sensors that spray based on soil water content. This is important since more homeowners are valuing sustainability in landscaping.
4. Start Early
With the average home spending about $500 on lawn care services, it's clear people value their yard. It's never too early to start looking it over, watering and mowing and even applying any additives you think the soil may need. Think of starting early as an investment in your lawn. The early days of spring, and even slightly before, is a perfect time to get the jump on the season.
5. Develop a Schedule
The secret to success is consistency. This is true with anything, even landscaping and lawn care. Get in a good habit of checking your lawn, inspecting for weeds, and examining sprinkler systems. This will mean if there ever is a problem, you can address it quickly so it doesn't have a major impact.
Call the Professionals for Landscaping Services
If you feel you can't handle your spring lawn care issues alone, contact a landscaping specialist for help.
Archer Lawns is the experienced, trusted professional you need. Don't tackle the Texas heat in spring alone – let us help you maintain your lawn beautifully and elegantly.
Meta Information:
Focus Keyword: landscaping